Submission Guidelines
Deadline for submission: 5pm PST March 29th, 2013



Abstract Guidelines

- Title
- Presenting/primary author(s)
- Affiliation(s) of listed author(s)
- Your email address – indicate if you want it published in the abstract book
- Please limit your abstract to 200 words or less
- If you wish to submit abstracts for both a talk and a poster, please submit two entries above, indicating which is which.

Poster Guidelines

- Please keep poster dimensions within 82" (length) x 36" (width)

Talk Guidelines

- 15 minutes in length with 5 minutes for questions
- Presenters will be notified April 2nd
- In the event we cannot accomodate your oral presentation, but would still like to present a poster, please indicate by checking both boxes above




If you have any further questions/issues with the above form, please email microsymposium@gmail.com
You will receive email confirmation once your abstract is reviewed.


Powered by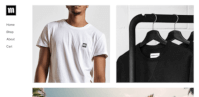 Create your own unique website with customizable templates.